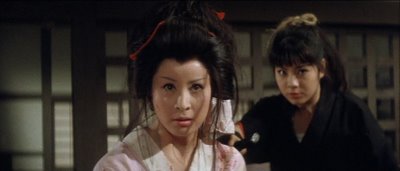 I've been waiting for years to see this flick, ever since I saw a production still in Alain Silver's
The Samurai Film
. Oh how happy I am that
Synapse
has finally released it in all its gruesome glory. It's part of their
Legends of the Poinsonous Seductress series
. This film, and it's sequel,
Okatsu the Fugitive
, were directed by Japanese horror legend Nobuo Nakagawa. The old boy proves he can dish out cruelty-laden exploitation fare as well if not better than his Toei contemporaries. I'll be writing more about this film in my upcoming book,
Stray Dogs & Lone Wolves 2: Deeper Into Samurai Film
. For now, all I can say is check it out!