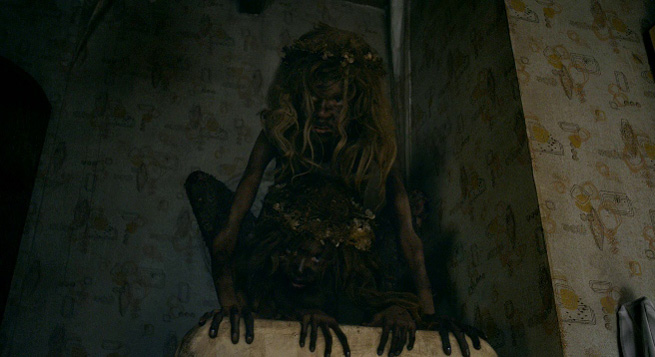 I realize this is a Hollywood flick, but it's so beholden to J-horror that I believe it deserves inclusion in this humble blog o' mine. Really, I must say this film is among the best East meets West horror films I've ever seen. Instead of just remaking an existing, contemporary Japanese horror film and dumbing it down for US audiences, here is an original ghost story that deeply embraces the principles of J-horror, principally a deep back story and a long-haired lady ghost. We see much more of the ghost here — hey, it's Hollywood; we Americans like to get a good gander at our monsters. But the visual stylization, the weird way the ghost moves and sounds: pure J-horror.
Nikolaj Coster-Waldau (TV's Jamie Lannister) plays a dual role as homicidal dad and hipster uncle of two little girls left alone in a cabin in the woods for five years. How did they survive? Who took care of them all that time? Why are they crawling around in the shadows like big bugs? All will become clear in time, once they move in with their uncle and his punk rocker girlfriend. There's also a rich aunt in the offing who wants to get a hold of the girls; she doesn't realize what a bad idea that is. Because Mama is
very
jealous …
I'd initially thought this was a Guillermo del Toro film, but he's just the executive producer. The filmmaker is newcomer Andres Muschietti, and I'd say he's one to watch.
Mama
is highly recommended for those looking for a thoughtful, well-made hybrid of Hollywood horror and Japanese jump-scare.