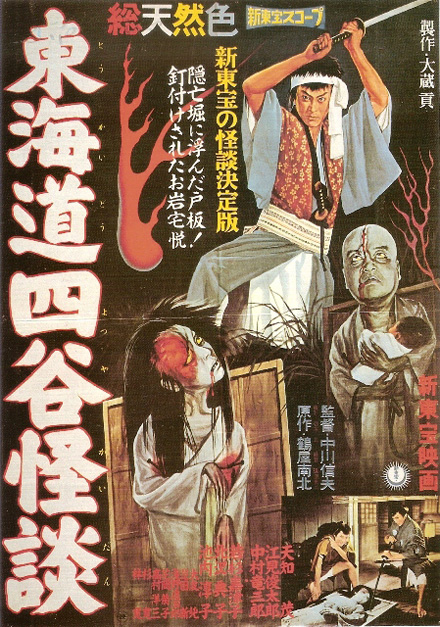 For Halloween this year, I'm going to be a dick and suggest a film that is not readily available (although it should be — the rights are owned by a going DVD concern). It ran on TCM a couple of weeks ago, and apparently you can see it on hulu plus according to
this
. It's
The Ghost of Yotsuya
directed by Nobuo Nakagawa (for a more fulsome review, see my book
Asia Shock
).

The Ghost of Yotsuya
(
Tokaido Yotsuya Kaidan
, 1959) is a film every J-horror fan
must
see, as you get the prototypical vengeful lady ghost in all her glory (including a horribly disfigured face, a feature often obscured in more recent incarnations … ). This was originally a kabuki play penned by the great Namboku Tsuruya IV back in 1825. Tsuruya specialized in a particularly dark and depraved genre of kabuki drama known as
kizewamono
, concerned with a host of unsavory characters; thieves, murderers, desperate ronin and the like, all up to some variety of juicy jiggery pokery.
In our case, it's skeevy ronin Iemon (the scintillatingly sinister Shigeru Amachi), and his scheming buddy Naosuke (Shuntaro Emi). Between them, they knock off more than half a dozen people, most significantly Iemon's wife Iwa (Katsuko Wakasugi). She's not taking her murder lying down (although she's since been nailed to a board and dumped in the river). When Iemon re-marries into a rich family, Iwa appears to him in strategic positions, hovering before his new family members; as the terrified villain lunges at the ghost with sword and spear, he winds up killing his new kin!
The 1959
Ghost of Yotsuya
is far from the only film adaptation of this dark fable. I mention a couple of others in my book, including versions starring Tomisaburo Wakayama and Tatsuya Nakadai. If you haven't obtained
Asia Shock
by now, you
really should
.
As I mentioned earlier, this wonderfully wicked film ought to be out on disk by now, as Criterion Collection has the rights. They've released director Nakagawa's other great work,
Jigoku
(1960), so why not this one? I realize it's tough times for DVD/Blu-ray manufacturers just now, but if there were ever a dark, rare gem of a film deserving to be seen, it is Nobuo Nakagawa's
The Ghost of Yotsuya
.
UPDATE: I just subscribed to hulu plus, and while I have great misgivings re: the commercials, I'm pleased to see the wealth of samurai cinema, including the film above. Guess everything comes at a price ...