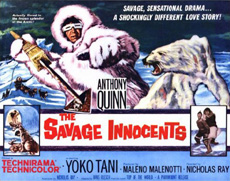 Sorry for the paucity of posts recently. I've been reading a lot and not looking at any particularly shocking films, Asian or otherwise. No, wait, I tell a lie:
The Savage Innocents
(1960), Nicholas Ray's eskimo saga, has some pretty shocking footage of actual polar bear and walrus hunts. That was hard to watch. (This is also the film that inspired Bob Dylan to write the song
Quinn the Eskimo
-- for its star, Anthony Quinn -- covered by Manfred Mann in 1968. Seeing the film clears up strange lines like "ain't my cup of meat.")
A Taxing Woman
(1987), Juzo Itami's follow-up to
Tampopo
, starring, once again, his wife Nobuko Miyamoto and the great Tsutomu Yamazaki (the cowboy trucker in
Tampopo
as well as the kidnapper in Kurosawa's
High & Low
) wasn't what I (or anyone back in 1987) was expecting. While the previous film had been frothy, fanciful and funny, this film, about a gung-ho tax inspector and her unexpectedly complex relationship with a crooked, yakuza-related business man, is a bit long and somewhat downbeat. Fine film, just not as funny as I thought it would be. Incidentally, the real yakuza didn't take kindly to Itami's portrayal of them -- he wound up getting knifed for his efforts. True story.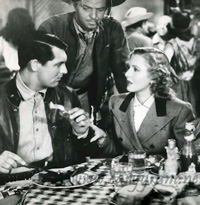 Tige
r Shark
(1932) and
Only Angels Have Wings
(1939) are big, manly movies courtesy of legendary Hollywood director Howard Hawks. The former is all about the perils of the commercial fishing trade (lots of sharks!) and stars Edward G. Robinson doing a cheesy Portugese accent and falling in love with with the wrong woman. Body parts get chomped left and right in this flick, as well as a hook in the face and other instances of nautical nastiness.
Only Angels Have Wings
has Cary Grant as a mail courier based in Brazil (or some Brazil-like country) who, with his rag-tag gang of fliers, risks life and limb to get the mail (or whatever) to remote, mountainous, always-dangerous locations. Jean Arthur is sweet on him, his ex is Rita Hayworth (in an early and rather embarrassing performance) and his men represent a stable of great character actor talent from the period. Also, look for once-huge silent star Richard Barthelmess in a rather unrewarding role as a hated, black sheep pilot.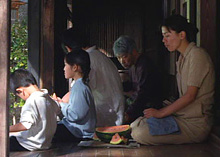 The Japanese word
maborosi
translates as phantom, vision, illusion, and also sounds like the English word
morose
. So with the film
Maborosi
(1995), we have a subtle, haunting meditation on love, loss, grief and starting over in a small Japanese fishing village. The original title is
Maborosi no hikari
which means something like "phantom light" -- a reference to a tale told by an old fisherman toward the end of the film. In other words, there ain't no ghosts. An arthouse slow burn, this film gets slower and slower as you go. Only the atmoshpere saves it. See what you think.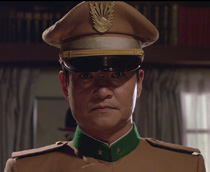 Mishima: A Life in Four Chapters
(1985) isn't a Japanese film, although it's all in Japanese and stars Japanese actors. It's Paul Schrader's tribute to famed novelist Yukio Mishima (who famously committed seppuku in 1970 following a doomed political misadventure). The film follows Mishima's life while meandering in and out of stagey interpretations of several of his stories, drawing obvious parallels throughout. One reason to see it is the great Ken Ogata in the starring role. Another is Kenji Sawada (
Samurai Reincarnation
,
Hiruko the Goblin
,
Happiness of the Katakuris
) in one of the vignettes. If you would like to see the real Yukio Mishima in a movie, he starred as a feckless yakuza in Yasuzo Masumura's
Afraid to Die
(1960), did a blink-and-you'll-miss-him bit as a human doll in Kinji Fukasaku's
Black Lizard
(1968) and had a small role in Hideo Gosha's
Tenchu
(1969) wherein he ... wait for it ...
commits seppuku
!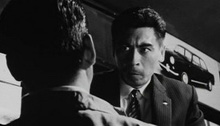 Black Test Car
(1962) was recently released on disk by Fantoma. It's an industrial espionage film concerning rival car companies and all the skullduggery their corporate spies get up to (like bribery, blackmail, prostitution, kidnapping, assault, you name it). Directed by one of my favorite Japanese directors, Yasuzo Masumura, this film makes a great double feature with his
Giants and Toys
(1958), another corporate saga, albeit a much funnier one (though still fairly dark) about the battles between three competing caramel companies.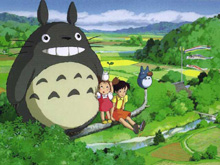 And I have to admit I was completely charmed by
My Neighbor Totoro
(1988), an anime feature from Hayao Miyazaki. So much so, in fact, that I bought a copy for a neighbor's 2-year-old daughter (who was herself completely entranced). It's hard to describe: The vibe is so sweet and gentle and filled with such a genuine sense of childlike wonder. I was really surprised by the degree to which it moved an old curmudgeon like me. Go figure.