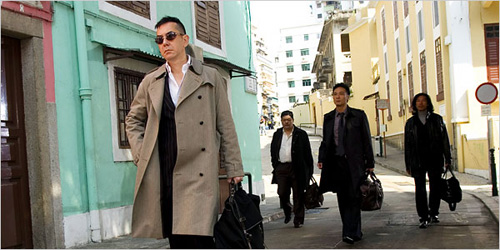 Back in 2007 I attended the 30th Portland International Film Festival (I blogged about it
once
or
twice
). One of the films supposedly playing was
Exiled
(2006). However, every time I went to a scheduled screening, someone would walk out, sheepishly apologize, and tell the audience that the film was still on the way -- sorry, here watch this instead. After a couple of attempts, I gave up on seeing it. Finally screening the film yesterday, I realize it wasn't a great loss.
Don't get me wrong, it's not a bad film. However, it's a Johnnie To film starring Anthony Wong, Simon Yam, Lam Suet, Nick Cheung and Francis Ng -- it should have blown my mind, but instead it merely held my attention. It's a low-key affair, very dark (literally as well as figuratively -- most of it is people silhouetted in inky blackness) with long periods of brooding. There are, of course, the usual explosions of violence, usually protracted gun battles, but there's an emptiness at the center; I just didn't feel a connection to the characters, and the tempo was a bit too
adagio
.
It's about five guys from Macau, childhood friends, who became gangsters, and one of them apparently shot the boss. Now his four friends are split; two are loyal to the boss and have been dispatched to rub him out. The other two are loyal to him and determined to stop the other guys. At least that's how it starts. But you know how gangsters are, always flipping sides. This goes for the bosses as well, and before long everyone is blasting away.
Simon Lam turns in a frightening performance as Boss Fay, but Anthony Wong merely phones it in (or perhaps he was directed that way -- I don't know, I'm forever ruined after seeing his performances in
The Untold Story
and
Ebola Syndrome
). Lam Suet, the John Goodman of contemporary Hong Kong cinema, is great as usual, and Nick Cheung shows his range (compare his taciturn family man here with his vicious assassin in
Beast Stalker
).
I need to see more Johhnie To films (and there are certainly
plenty
to see), but this one just didn't do it for me. I much prefer something like
PTU
.