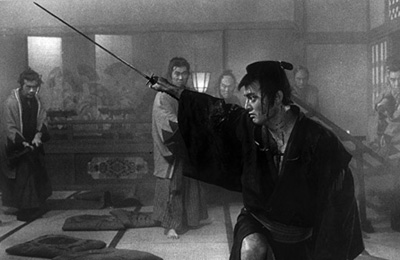 June 24th, 2008, 8:30 pm: I find myself at the Film Forum in New York City, sitting in the front row, a few feet away from the greatest living actor of post-war Japan, Tatsuya Nakadai. It's an evening of conversation interspersed with film clips and much applause. I can't believe my good fortune -- to be in such close proximity to my all-time favorite Japanese actor (whose praises I've sung as often as possible in my writing). It's all very surreal.
Before Nakadai's arrival, I chatted with folks in the audience and discovered that several of them had just obtained, or had already read,
Stray Dogs & Lone Wolves
. I even signed a few of copies. Ironic that, as I'd hoped to have the great man sign
my own
copy of the book! Unfortunately it was a strictly get on/get off affair so I had no opportunity to interact with him (which is fine; I'm not a big celebrity hound).
So yeah, it was something else. A great night. I did get to meet Teruyo Nogami, Kurosawa's old script girl, who'd been doing the town with Nakadai promoting her memoir,
Waiting for the Weather
. If I'd attended any of those other events, like the one at the Kinokuniya bookstore or the Japan Society, I'd have had ample chance to get up close and personal with Nakadai (as did my Brooklyn buddies Ric and Mel). But my wife and I were only in NYC for a couple of days, so
c'est la vie
.
In any case, as I sat looking up at The Nakadai relating anecdotes about the making of such magnificent films as
The Human Condition
,
Sword of Doom
and
Sanjuro
(among others), I realized that, at that moment, I was at the precise point in the universe I wanted to be. You don't get that too often in life. A great night indeed.