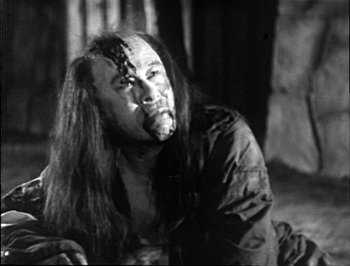 If you're into Japanese horror, or if you've read
Asia Shock
(or, hopefully, both), you may have an awareness of Nobuo Nakagawa, Japan's first master of horror (
Jigoku
,
Ghost of Yotsuya
,
Mansion of the Ghost Cat
). I recently enjoyed one of his lesser-known films,
The Ceiling at Utsunomiya
(1956), a supernatural samurai film that stands as perhaps the first serious entry in Nakagawa's 50's horror ouvre. Great flick, with lots of sword work, plenty of engaging characters, a plot to assassinate the shogun, a bit of foul murder, a vengeful ghost, and the inevitable Tetsuro Tamba. You can get a copy at
Super Happy Fun
(along with a bunch of other great Nakagawa films).