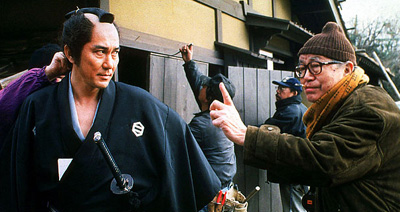 There he goes, last of the breed. Kon Ichikawa was a member of the
Yonki no Kai
, the Club of the Four Knights along with Akira Kurosawa, Keisuke Kinoshita and Masaki Kobayashi. They all wrote
Dora Heita
together (that's Kon directing Koji Yakusho on the set of
Dora Heita
-- I write all about this film in my upcoming book, the manuscript of which I've happily just sent to the publisher; the new title is
Warring Clans, Flashing Blades: A Samurai Film Companion
).
Ichikawa had a sure hand and a wry sense of humor. Most of the stuff I've seen is from the 50's like
The Burmese Harp
(1956),
Conflagration
(1958),
Odd Obsession
(1959),
Fires on the Plain
(1959), all must-sees. But
Dora Heita
is in a class by itself, a 21st century film made from a 30-year-old script by an old duffer who straddled film eras effortlessly and, with Yakusho's help, delivered the goods in a precursor to the neo-samurai films of Yoji Yamada like
Twilight Samurai
(2002) and
The Hidden Blade
(2004).
Here's an
obit
.
On an unrelated note, like a cayenne cashew,
Bai Ling
is one hot nut.