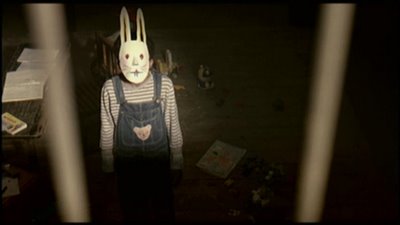 If you know me, you know I have a weakness for violent Korean films, even when they're not very well executed.
Bloody Reunion
is a fairly decent shocker, but it suffers from an attempt at a twist ending that is more a WTF? ending that makes absolutely no sense. So instead of letting that ruin the fun, I'll just pretend the movie ends a bit before the lame mind-fuckery bit and discuss the rest of it.
Seems a rural teacher running a one-room school out of her seaside home gave birth to a boy with facial deformities so hideous her husband hanged himself. She raised the little tyke in the basement (that's him above in the bunny mask), her students taking time out periodically to taunt him. It's twenty years later and a bunch of the now-all-grown-up students decide to visit their old teacher. See where this is going? That's right, you got it: Homicidal maniac in a bunny mask picking off the guests one by one. But is it the son, or another member of the group?
What makes this otherwise routine exercise more interesting is the gradual reveal that ol' Mrs. Park wasn't the caring, loving teacher her former students have come to celebrate (with liberal amounts of soju, beer and raspberry home brew). No, she was actually a nasty piece of work, humiliating, crippling, even molesting her little charges all those years ago. The tension of these revelations intermingles with the slasher plot to create an interesting new hybrid of suspense.
But remember: You gotta really be into dark Korean cinema to enjoy this one. Don't say I didn't warn you.