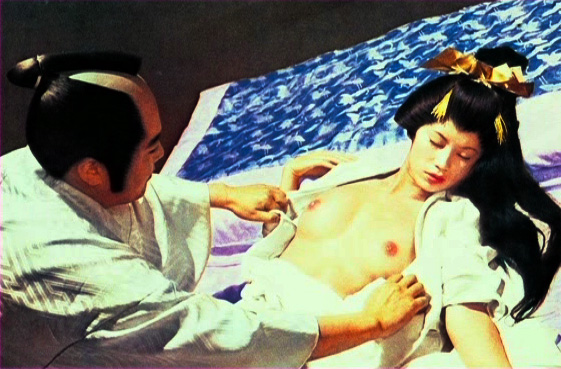 If you thought
Bohachi Bushido
was a good example of sexy jidaigeki, have I got a much-better (and sexier) movie for you:
The Lustful Shogun and his 21 Concubines
. The story concerns a horny shogunal
kagemusha
(double) who bonks his way through the
ooku
(royal harem) of Edo Castle. There's ever so much lovely female flesh on display here, along with all manner of inventive sexual activities employing dildos, midgets, paintbrushes, and a talented pekinese. We also meet a tattooed nun, a lady thief and a couple of Chinese eunuchs. But what we get most of is lots and lots of good old fashioned
rumpy pumpy
. Yes, whatever complaints you might have about this film, "I didn't see enough fucking" will not be one of them. Frankly, I had no complaints at all; laughs, beautiful women, political intrigue, sword action, and every sex position imaginable -- what's not to like? Sure, the whole affair is decidedly softcore -- no full frontal nudity or penetration -- but there's no denying the Japanese pink film genre's determination to deliver
everything but
.
The film was directed by Norifumi Suzuki, who, together with Teruo Ishii (he directed
Bohachi Bushido
), churned out some amazing exploitation films for Toei studios during the late 60s/early 70s. But for my money, it is Suzuki who deserves the mantle of superior filmmaker. While Ishii had his moments, his output was uneven in the extreme, whereas Suzuki always delivered consistently well-made and thoroughly entertaining films.
Featured here are Toei's reigning fleshpots of the period, Reiko Ike and Miki Sugimoto (as the lady thief and a hot noblewoman respectively). Then there's the stunning Yayoi Watanabe as Ukiku, the peasant girlfriend of our impetuous impostor (played with enthusiasm by Shin'ichiro Hayashi). Toru Abe is the manipulative minister who set up the whole imposture for his own ends; his wife and virgin daughter are soon defiled by his priapic protege.
I won't pretend
The Lustful Shogun and his 21 Concubines
is anything more than a panorama of prurient pleasures with some goofy gags and sword fights thrown in, but hey, it's better than 90% of the crap down at your local cineplex, so why not check it out?