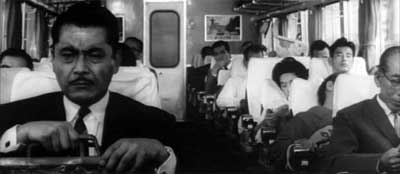 If you're in the NYC area, why not celebrate Akira Kurosawa's 100th birthday with a film? From January 6th through February 5th, the Film Forum is showing
28 of the master's films
including my personal favorite,
High and Low
(above, playing January 22nd). I also recommend the seldom-seen
The Idiot
(1951) playing January 17th and
Men Who Tread on the Tiger's Tail
(1945) on the 19th.
Sure, Criterion has released lots of these pictures on DVD, but I don't have to tell you how much difference the big screen still makes, especially in regards to the compositional skills of an artist like Kurosawa. Maybe when our LCDs get to be 300 inches, we can all stay home, but for now, get thee to the Forum!