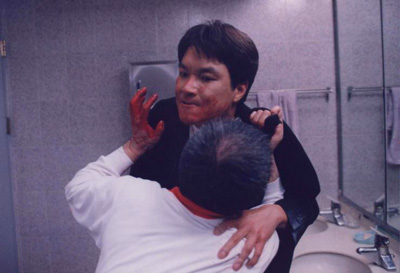 I've been working my way backwards through the filmography of Korean novelist and director Lee Chang-dong. A couple of years ago I saw his then-latest film
Secret Sunshine
(2007) in San Francisco and was properly blown away. More recently I screened
Peppermint Candy
(1999), another triumph. And just now I've seen his directorial debut,
Green Fish
(1997). Remarkably, that amounts to the majority of his output; he's only made five films in the last 13 years. But if the other two films are as good as the ones I've seen, he can take all the time he wants. His stuff is worth the wait.
Green Fish
follows the progress of a young guy named Mak-dong (Han Seok-kyu) from newly-discharged soldier to low-level gangster via an encounter with a mysterious beauty on a train (Shim Hye-jin). She's a singer in a nightclub owned by local gang boss Bae Tae-gon (Moon Seong-guen), whose moll she is, but she's also got a thing for Mak-dong. If all this is starting to sound somewhat
film noir-y
, it is. What makes the film remarkable is its utterly unpretentious realism. Such a seemingly hacky set-up works because Lee Chang-dong roots his characters and situations firmly in
terra firma
, employing a style you could call
verite noir
. As with his other films, Lee isn't so concerned with conventional story-telling as with direct, visceral human experience. This leads to an unpredictability in his films; standard tropes do not concern him, only raw emotion (and a certain measure of social commentary). But since most films are simply a series of surprises anyway, Lee's approach works, albeit from a completely different direction. The audience's cinematic expectations are thwarted by the rude intrusion of something unexpected that might actually happen.
So, for example, when Mak-dong's brother gets pulled over by a cop, he tries to bribe the cop ... and the cop takes the bribe. Mak-dong's brother only has one large bill and asks the cop for change. The cop agrees, then gets in his car and drives away. So crazy brother chases the cop, demanding his change! Elsewhere an imposing thug from a rival gang bumps into Mak-dong in a store, causing him to drop his groceries. The thug picks them up and apologizes ... in English! Then, moments later, he returns with his cohorts to beat the shit out of Makdong and his pals.
Green Fish
is filled with moments like these. Things inevitably ratchet up but, again, not in the way you might think, and the film ends on a decidedly unconventional note.
One more reason to see
Green Fish
is the presence of the incomparable Song Kang-ho (
The Host
,
Sympathy for Mr. Vengeance
,
JSA
,
The Quiet Family
,
Thirst
), here playing one of Mak-dong's fellow gangsters. It's an early, small role for Song, but his manic energy is in full force -- any time he's on the screen, you can't take your eyes off him. He would team up again with Han Seok-kyu in the taut political/crime drama
Shiri
(1999).
Green Fish
won the Dragons & Tigers Award at the 16th Vancouver International Film Festival.