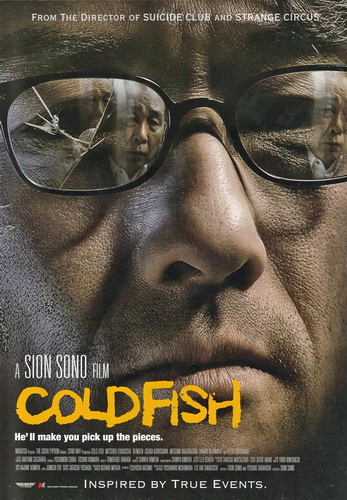 Unfortunately, due to a combination of poor timing, illness and first-timer ineptitude, I'm not seeing a whole lot of films here in Busan. I really need to get back here next year so I can utilize the knowledge I'm gaining from all the mistakes I'm making.
I did get to see a wonderful Korean comedy from 1961,
Under the Sky of Seoul
, and last night I caught Sion Sono's latest,
Cold Fish
. The latter is a perverse, serial killer splatfest that could only come from the unbridled imagination of the man who gave us
Suicide Club
and
Love Exposure
. I won't say any more about it, as it's one of those films best seen knowing as little as possible -- just let it slice into you and scatter you in pieces all across the theater floor.
Elsewhere, I wandered down the beach to where they shot all the outdoor restaurant scenes for
Tidal Wave
. That was a mind fuck, like stepping into the movie (minus the tsunami and Park Joong-hoon). Then, when I went back to the hotel room, what came on the TV? Yep, you guessed it. I was inside the movie watching the movie inside my hotel -- what would Poe say? (Clue: It's
tattooed
on this chick's back).
OK, gotta run. Going to see the new Song Kang-ho spy picture
Secret Reunion
. Love that guy.