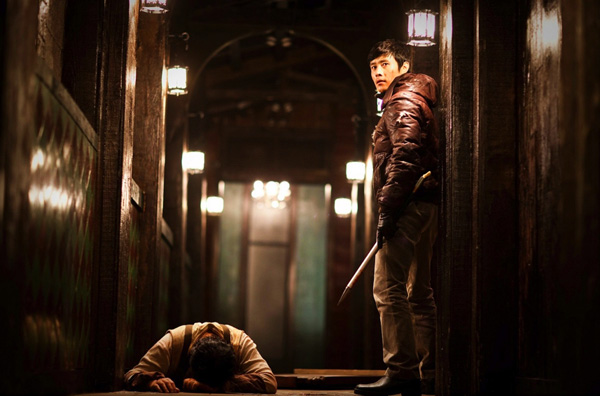 Just when you thought Korean revenge flicks couldn't get any more extreme, along comes Kim Ji-woon to raise the bar a dozen rungs. In
I Saw the Devil
(2010), the director pushes the envelope into psycho killer/torture porn territory, making what has to be the final statement in the genre.
If you thought Choi Min-sik was intense in
Oldboy
, wait 'til you see him here. As serial killer Jang Gyeong-cheol, he gives Anthony Wong's Bunman a run for his money (something I never thought I'd say about any actor). See
Asia Shock
for more on the amazing Choi, a stage and screen veteran who is South Korea's answer to Lawrence Olivier, Robert De Niro and Tatsuya Nakadai all rolled into one. Choi plays opposite Lee Byeong-Heon, no slouch in the Korean film star world --
JSA
,
A Bittersweet Life
,
Three ... Extremes
,
The Good, the Bad, the Weird
-- you could say he's been around. When these two top-notch performers go head-to-head, it makes for an explosion of violence that leaves no surface unbloodied.
The plot is fairly straightforward: Jang kills a woman who happens to be the fiance of intelligence agent Kim Soo-hyeon (Lee). The latter, crushing his bereavement into a tight ball of monomaniacal rage, is out for revenge. No spoiler, you get that much from the trailer. What really blows you away is the way in which he goes about it and the unpredictable events that result from his unique methodologies. As Jang tells Kim more than once in the film, "You fucked with the wrong guy." I won't say any more -- the mind-blowing plot twists and OTT gore are best experienced with as little preconceptions as possible.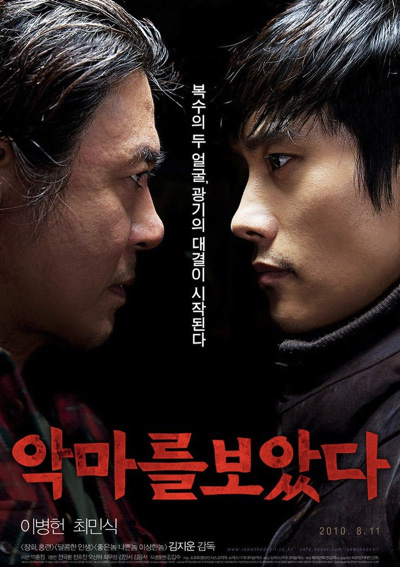 I've been a fan of Kim Ji-woon since seeing his first film,
The Quiet Family
(1998), an exquisite black comedy (also featuring Choi Min-sik). Kim went from strength to strength with
The Foul King
(2000, a wrestling comedy starring Song Kang-ho),
A Tale of Two Sisters
(2003, a creepy K-horror),
A Bittersweet Life
(2005, a gangster saga starring Lee Byeong-Heon),
The Good, the Bad, the Weird
(2008, a bonkers, Leone-fueled western) and, finally,
I Saw the Devil
(as well as a few shorts along the way). Moving from genre to genre, Kim seems out to prove he can master them all, and he has yet to put a foot wrong. It's hard to believe the guy's only made half a dozen features -- they're all so good that it feels as if he's made many more.
I Saw the Devil
was at the top of my list of films to see in Pusan last year. However, like the other films I wanted to see, they had all played by the time I got there, mid-festival. What could I do? They didn't post screening times online until I'd already booked my flight and hotel. Thanks guys. Oh well, got it on Blu-ray now -- and I'd recommend you do the same.