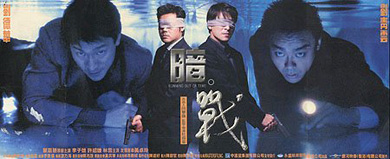 Another day, another great Johnnie To flick. This time out, it's
Running Out of Time
(1999) featuring Andy Lau as a master criminal/terminal case who enjoys his final days mindfucking a police detective while pursuing a revenge-oriented agenda against a criminal gang. As usual, not much on paper, but Master To works his magic and it becomes an exciting, can't look away thrill ride.
Unlike the last Johnnie To film I reviewed (scroll down), Lau isn't a homicidal maniac. Just the opposite: He goes out of his way not to hurt or endanger anyone (although he seems to -- he's full of surprises). However, he is his usual, magnetic self and you're rapt whenever he's on screen.
Running Out of Time
is full of twists and turns that it would be criminal to reveal, so, as I often do, I urge you to just watch it and let it happen. If you're a fan of Hong Kong crime flicks, trust me, you won't be disappointed.