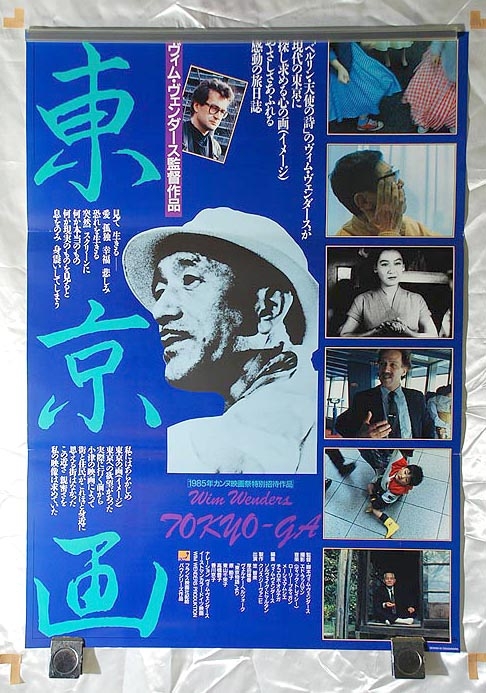 Way back in 1985, German filmmaker Wim Wenders made a pilgrimage to Tokyo in search of Ozu. Not the physical personage, mind you (Yasujiro Ozu died in 1963) but rather some element of the master still extant in the great city in which his films were set. Were the trains still running? Were any of the old cast/crew still kicking around? Yes on both counts, it turns out, and the resulting film is a delightful blend of documentary and arthouse meditation.
This being Wenders, you'll experience long, lingering takes and soft-spoken narration. Dial back your immediate expectations and just let the imagery wash over you. After all, this is Tokyo in the 80s; the sheer density of information in each extended, dreamy shot is worth a good, long look.
Interspersed between the moving portraiture are segments featuring unique aspects of Tokyo culture, such as life in a pachinko parlor or Asakusa craftsmen making display case replicas of restaurant food out of wax. In city parks we find old ladies laughing, children at play and cherry blossom viewing parties with lots of beer and sake all around. At one point we meet up with Werner Herzog at the top of the Tokyo Tower. A splendid time is guaranteed for all.
The real gems of the film, however, are the interviews with two Ozu fixtures, actor Chishu Ryu and cinematographer Yuharu Atsuta. Both men open up about their experiences with, and feelings for, the great man, Atsuta to a degree uncommon for Japanese men of his generation (moved by his recollections, he breaks down and cannot continue). Ryu is predictably self-effacing, and gives all credit for his career and achievements to Ozu. Atsuta hauls out the original equipment, including the 50mm camera and tripods he used on all those films, and demonstrates Ozu's unique, low-level "tatami shot." It's a real treat for aspiring filmmakers and fans alike.
Tokyo-ga
is one of those how-the-hell-am-I-just-hearing-about-this-now pictures, like Teshigahara's documentary about Gaudi (at least in my case — I'm sure there are plenty of far hipper film folks who've long known of both). Needless to say, I'd heartily recommend
Tokyo-ga
to anyone interested in Ozu, Wenders, and/or Tokyo itself. And seeing how they make that phony food is a major bonus!