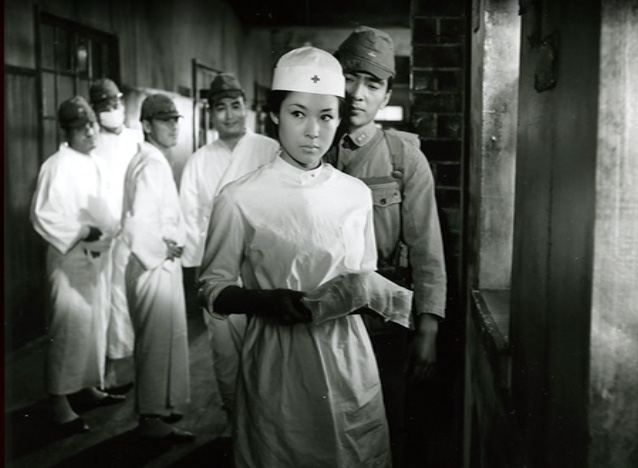 Anyone interested in World War II really owes it to himself to check out some Japanese WWII pictures. It's quite a different perspective from the losing side, and while there were plenty of films made with a hurray-for-us-anyway-we-did-our-best sensibility, the ones I find most compelling are those that strip away the heroics and patriotism and examine the reality of war. Such films include Masaki Kobayashi's
The Human Condition
trilogy, Kon Ichikawa's
Fires on the Plain
and
The Burmese Harp
and Yasuzo Masumura's
Red Angel
(1966). While less well-known than the others,
Red Angel
nevertheless stands alongside these classics in terms of its virtuosity and shocking veracity.
The angel of the piece is an army nurse, Sakura Nishi (Ayako Wakao), shipped off to Manchuria to work in field hospitals in 1939. Her first day on the job, she's raped by one of the patients. He turns up later on a table with a hole in his belly and, despite his despicable act, Nurse Nishi takes pity on him, lobbying for extra care even though he's a goner. Yes, she's a sweetheart, a loving, giving woman whose compassion for the men she encounters extends above an beyond the call of duty. I don't want to give too much away, but suffice to say you will never forget this movie or the character of Sakura Nishi.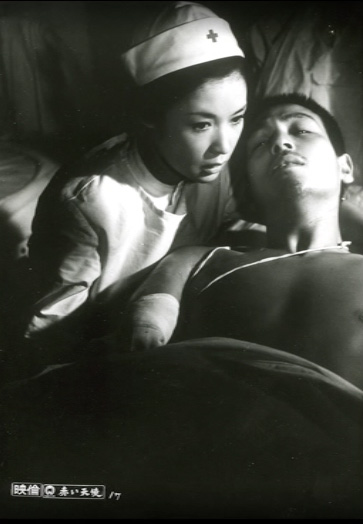 Red Angel
doesn't shy away from controversial wartime issues including the harsh realities of triage, comfort women, drug addiction, rape and disease. The film deals frankly with amputation (complete with an extended bone-sawing sequence) as well as the fate of the limbless survivors; according to one armless man (Yusuke Kawazu, right), guys like him would never see their families again (due to the Japanese government's policy of stashing multiple amputees away in convalescent hospitals so as not to expose the dark verities of war). The special care Nurse Nishi provides this poor unfortunate makes Florence Nightengale look like a candy striper.
Director Yasuzo Masumura was attracted to the dark side of human nature (one reason he's a personal favorite); it is an ever-present component of such wildly divergent yet consistently excellent films as
Giants and Toys
and
Black Test Car
(corporate espionage);
Manji
(lesbian love);
Blind Beast
(ero-guro);
A Lustful Man
(Edo-period sexcapade); and
Yakuza Soldier
(Shintaro Katsu as a drafted thug). Masumura studied film in Rome at the Centro Sperimentale di Cinematografia and AD'd under Kenji Mizoguchi. He liked working with Ayako Wakao, casting her in
Manji
,
A Lustful Man
, and yakuza flick
Afraid to Die
.
Back when I acquired
Red Angel
, it was only available overseas on a region-2 disk. Fortunately for you, the good folks at Fantoma have released it here, along with
Blind Beast
,
Manji
,
Giants and Toys
and
Black Test Car
. I can't recommend these pictures enough. It kills me to think of all the other Masumura films never released on DVD, but what can you do? Well, you can blog about it and hope the manufacturers take notice.