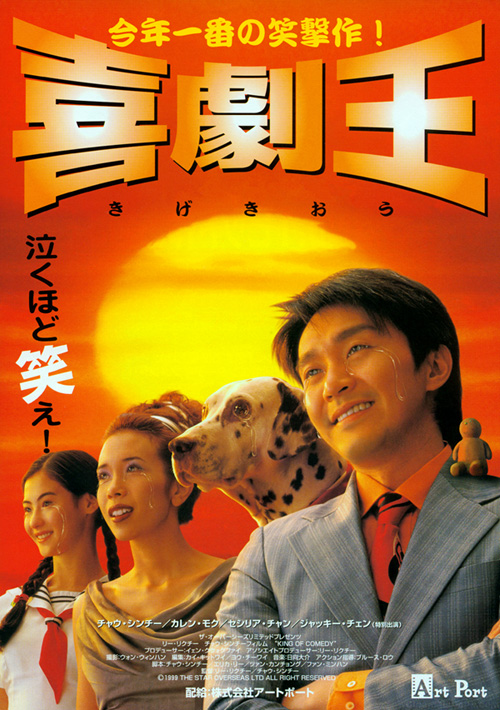 It's been awhile since I saw a Stephen Chow movie, so I threw this one on last night. It's also been awhile since I burst forth with barking blasts of uncontrollable laughter -- what a great feeling. Chow is funny on his own, but what really knocks his comedy out of the park is a combo of the people he surrounds himself with, comedic compatriots like Ng Man Tat and Tin Kai Man who form a loose troupe from film to film, and the broad nature of the gags, bordering on, if not spilling wholly over into, outrageous gross-out humor. A bar hostess forced to entertain a particularly repellent male customer is a funny pretense; ah! He's got roaches in his hair and a worm crawling out his ear! Or how about the tender love scene between Chow and Karen Mok wherein a big glob of runny snot hangs perilously out of his nose over her face? OK, it's puerile, but nobody laughs more deliriously than an 8-year-old, and sometimes a fella needs to laugh like that. Sue me.
Also on hand is smoking hot Celia Cheung. More recently, Ms. Cheung found unwanted publicity when "candid" photos of her and a number of other HK actresses made their way from singer/actor Edison Chen's hard drive to the internet. Oh, and don't blink or you'll miss a walk-on cameo from Jackie Chan. He plays a stuntman (ha ha). The premise of the movie is that Chow is a "background artist" trying to worm his way into a more substantive role on a film shoot (a la Ricky Gervais in
Extras
).
If you're new to Stephen Chow, I recommend starting with
Shaolin Soccer
, his masterpiece. Then move on to
The God of Cookery
,
King of Comedy
and
From Beijing With Love
. Only then check out the somewhat more jaded
Kung Fu Hustle
. Then you can move on to the 50+ films he's been in since the early 80s (like
Royal Tramp
and
God of Gamblers 2
). Chow is one of a kind, a national treasure, and everyone should have at least a couple of his films in their collection.