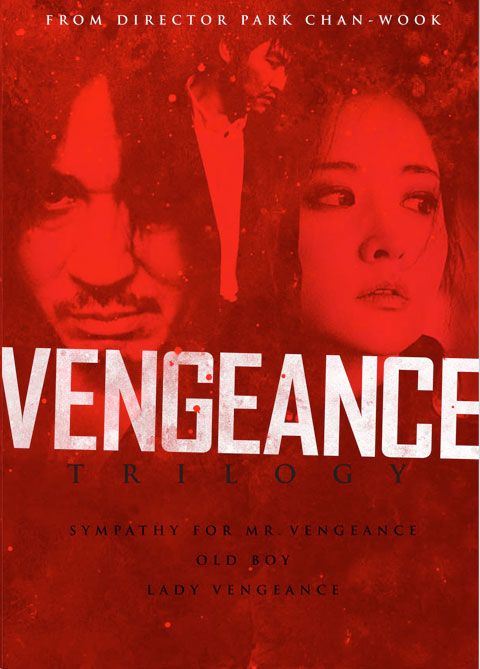 I remember when the only way you could see one of these pictures was on an import DVD (my original copy of
Sympathy for Mr. Vengeance
is a region-3 disk out of Hong Kong). How gratifying, then, to have a box set like this, boasting a whopping eight disks! There's also a glossy collector's booklet featuring production stills and essays by Hollywood insiders like Eli Roth and my boy John Kreng (
Fight Choreography: The Art of Non-Verbal Dialogue
).
The feature disks all have commentaries (three different ones in the case of
Oldboy
) and, this being an eight-disk set, there's a veritable smorgasbord of extras. Since
Sympathy
opened to less than favorable reviews (following director Park Chan-wook's more crowd-pleasing
Joint Security Area
, its ultraviolence was off-putting to audiences), its extras disk is the leanest. That said, we're talking several making-of featurettes, cast interviews, storyboards, stills, trailer and a profile of director Park Chan-wook by Brit talk show host Jonathan Ross. Yeah, that's the "skimpy" extras disk.
By the time you get to
Oldboy
, it's insane.
Oldboy
was such an international phenomenon that, in addition to the standard array of DVD extras, there are featurettes about the phenomenon itself (like
Le Grand Prix at Cannes
, a short documentary about the splash the film made at the renowned French film festival). There's a solid two disks worth of extras for
Oldboy
including five making-ofs, interviews, deleted scenes and a 3-hour video diary.
Sympathy for Lady Vengeance
(or simply
Lady Vengeance
as it is called here) is similarly well-endowed with additional features, as well as an alternate, director's cut version of the film.
I reviewed all three films in the Vengeance Trilogy in
Asia Shock
, so I'll leave it to you to check that out for my own critical take. Upon obtaining this new box set, I took the opportunity to watch these films again, and seeing them all together I came away with a greater appreciation for the first film,
Sympathy for Mr. Vengeance
. In retrospect I think it is probably the finest of the bunch. I found greater appreciation for it's subtle, artistic touches in contradistinction to the manga-esque outrages of
Oldboy
(as great as they are).
In any case, do I really need to tell you to go get this box? If any one box contains the essence of "asia shock," it's this one.