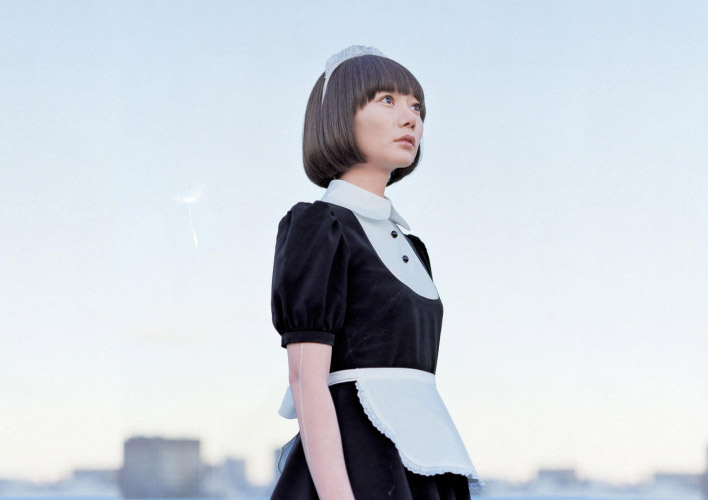 Like many Westerners, I first became aware of the lovely and versatile Bae Doo-na as the spunky, one-woman anarchist revolution in
Sympathy for Mr. Vengeance
(2002). While researching
Asia Shock
, I learned she'd been discovered on the street by a talent scout in 1998 and had made her film debut in 1999 in the Korean
Ringu
adaptation,
The Ring Virus
. She went on to appear in a wide variety of films extending to black comedy and erotic romance. Ones I've seen include the aforementioned
Ring Virus
, the coming-of-age picture
Take Care of My Cat
(2001), the needlessly insipid girl rock flick
Linda Linda Linda
(2005) and giant monster blockbuster
The Host
(2006). I guess you could say I'm a fan. So when I heard that in her latest film outing she portrays a blow-up sex doll that comes to life, I was intrigued to say the least.
Far from some some trashy exploitation flick or campy romp, however,
Air Doll
(2009) turns out to be a multi-layered meditation on what it is to be a human being, told from the point of view of, yes, a newly self-aware blow-up doll. Somehow, she has developed a heart, and this allows her to walk the streets of Tokyo, delighting in the everyday, mundane miracles the rest of the population has long since forgotten. She gets a job at a local video rental place, learning about movies and gradually getting involved with a young guy who works there. The only person who doesn't seem to notice her transformation is her owner, a somewhat pathetic figure who carries on with the elaborate charade of pretending she's alive as he did before, even though now she is. Could it be because he too is "empty inside"? Elsewhere in the film, her living doll status barely raises an eyebrow; no one is particularly surprised that a blow-up doll has become alive. Upon cutting her arm at work one day and promptly deflating, her co-worker merely applies a bit of scotch tape and blows her back up. Problem solved.
Air Doll
is the latest film from art house stalwart Hirokazu Kore-eda, who began his career making TV documentaries in the early 90s. In his feature films, dating from
Maborosi
(1995), Kore-eda's stylistic choice has been to apply a documentary approach to narrative fiction, whether it be the supernatural
After Life
(1998) or the more fact-based
Nobody Knows
(2004). More recently, Kore-eda tried his hand at period drama with the well-recieved neo-samurai film
Hana
(2006). Since
Air Doll
represents an immersion in all-out fantasy, one wonders in what direction Kore-eda will strike out next ... ?
I will say I found
Air Doll
to be one of Kore-eda's more absorbing films, not least due to the performance of the perfectly-cast Bae Doo-na (who won best actress awards at the 2009 Japan Academy Awards, Tokyo Sports Movie Awards and Takasaki Film Festival). The film takes a dark turn in the third act which required a measure of rumination, but I'm always up for some not-altogether-impenetrable ambiguity. In this case, it was a matter of taking the internal logic of the film to a certain extreme ... oh, you'll see.
As it happens,
Air Doll
was not Bae's first foray into Japanese cinema --
Linda Linda Linda
was also a Japanese feature. When asked recently about the differences between filming in Korea and Japan, she said, "When an actress is shooting a nude or bed scene in Korea, there are very few staff members on set -- like only the director, cinematographer and boom mike operator. But my first scene [in
Air Doll
] was a nude scene and I was very surprised because there were so many staff members and I felt this is really different." No surprise, then -- "peeping" is something of an epidemic in the Land of the Rising Sun ...
Air Doll
is playing April 30th at the
San Francisco International Film Festival
and will soon be available on DVD from
Palisades Tartan
.