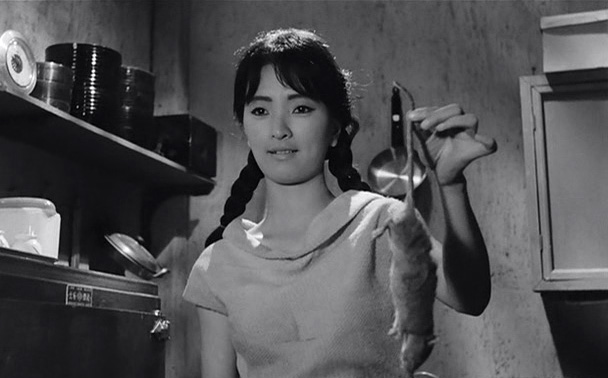 Time Out film critic Wally Hammond, in reviewing
The Housemaid
(1960), remarked that its "hot-house Sirkian drama and Clouseau-like horror suspense makes for a notably delirious experience." I couldn't say it better or agree more. If your awareness of Korean cinema doesn't stretch back past the last couple of decades, you're in for a real treat with this tale of jealousy, greed, sexual obsession and rat poison.
Things start off rather staid, with a Leave-It-to-Beaver-ish family whose patriarch is the music teacher down at the local factory. The workers, all women, live in dorms at the facility and look forward to choir practice with their handsome teacher. A couple of the girls are, in fact, hot for teacher, one of them taking a job as the housemaid in his newly-expanded house. See where this is going? Maybe, but I bet you won't guess how far or to what end ...
I'll admit I was dubious at first. During the opening scenes, the performances seemed wooden and abrupt -- I wondered if this was going to be some formalist experiment in dramatic control. Man, was I wrong! Director Kim Ki-young was just setting me (and the characters) up for an impending cataclysm of emotional upheaval and self-destruction. Before long, the passion, tension and psychological torture ratchet up, reaching a crescendo of emotional chaos to match anything you may have seen in more recent Korean films.
Best of all, this is the first film discussed on this blog that you can actually see
right now for free
. You have to create an account, but so what? What's one more login/password?
The Auteurs
features a bunch of other free foreign/cult films and tons more for a nominal service charge, so my advice is: dive in. You certainly won't be sorry you did once you see
The Housemaid
.
UPDATE: Well, the above information is no longer correct. Hell, it isn't even called The Auteurs anymore, it's
MUBI
. And they no longer have
The Housemaid
available either. Never fear, however, as the film is now part of the
Criterion Collection
, and the whole damn Collection is on
hulu plus
, so that's a reason right there to get hulu plus if you don't already, and then you can go watch
The Housemaid
there (or purchase the disk)
.
You're welcome!