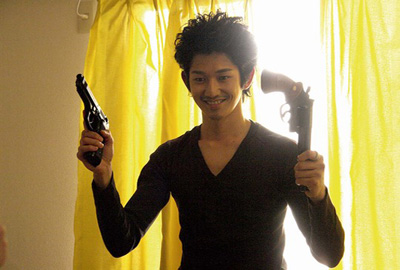 The Foreign Duck, the Native Duck and God in a Coin Locker
(2007) had its North American premiere last night at the Japan Society in New York and I was lucky enough to see it. I wish I could say I saw it in New York -- nope, I managed to secure my own copy (one of the perks of being a world-renowned aficionado of Asian film). But I'm going to pretend I was sitting there with my popcorn, elbow to elbow with Mr. and Mrs. First Nighter.
So yeah, great flick. Complex narrative construction delivered so smoothly that it isn't until you find yourself phumphering trying to describe it that it hits you just how finely crafted it all really was. What starts out as a quirky indie gets progressively darker as the nascent friendship between nebbishy college freshman Shiina (Gaku Hamada) and enigmatic cool guy Kawasaki (Eita) takes the former deeper and deeper into the bizarre and confounding life of the latter. To say any more would get me phumphering again, and besides there's a game-changing, nothing-is-as-it-seems plot twist halfway through that I wouldn't think of revealing. I can say there is murder, revenge, kidnapping, a love triangle, Bhutan and Bob Dylan, all wrapped up and delivered in ways you'd never expect. If you have any sense or taste at all, you'll love it.
Based on the novel by Kotaro Isaka and directed by Yoshihiro Nakamura,
The Foreign Duck, the Native Duck and God in a Coin Locker
is an unclassifiable triumph of contemporary Japanese cinema that certainly rewards repeat viewings. Highly recommended.