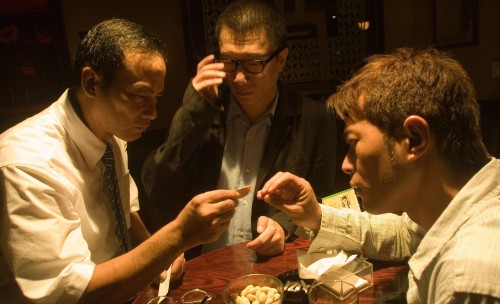 Triangle
(2007) is an engaging caper flick concerning three Hong Kong losers. It's directed by three great Hong Kong filmmakers: Wong Kar Wai, Ringo Lam and Johnny To. Oh, and among other things, there's a love triangle. So you've got a triangle of triangles, as it were. And, just for good measure, there are some triad guys running around as well. Guess it's true what that redneck Schoolhouse Rock singer sang, "three is a magic number."
The three losers are: Lee Bo Sam (Simon Yam), a creepy businessman who may or may not have killed his first wife; Fai (Louis Koo), a flaky cabbie who's in hot water with some local gangsters; and Mok (Sun Hong Lei), a knowledgable yet taciturn antique dealer. They unearth a Tang dynasty coffin wherein they find the film's MacGuffin, a garment made of gold coins worth millions. Also chasing the treasure is a local cop (Lam Ka Tung) who's having it off with Lee's neurotic second wife Ling (Kelly LIn) -- they gum up the works considerably.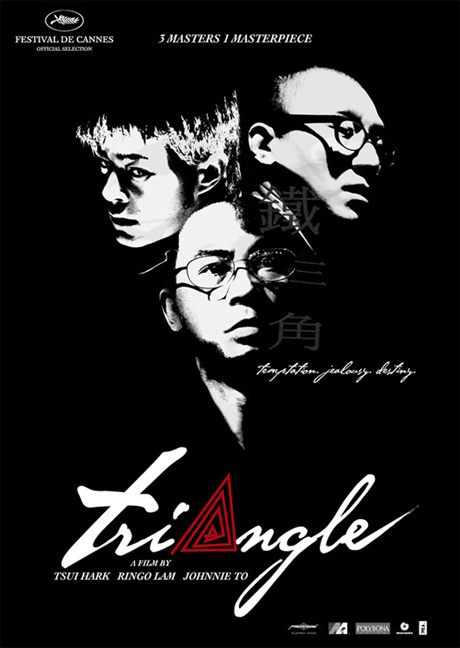 But the creaky plot isn't what's good about
Triangle
. It's really more of a character study, and a good lesson for any young filmmaker learning how to establish strong characterizations on the fly. Economical yet effective dialog plus top-notch acting puts us on intimate terms with the three principles almost from the get-go. Also fun, of course, is observing how the three directors handle their segments (Wong has the first third, Lam the second, and To the third). Wong's bit features a lot of daytime and exterior shots; Lam goes a bit darker and more emotional, turning the tables on the audience in regards to Lee Bo Sam, the most enigmatic character of the piece (played to perfect pitch by the great Simon Lam); by the time Johnny To gets the reins, it's all about darkness and night, with a grand finale in which the lights go out again and again …
I find pictures like
Triangle
, where the three directors share the same story, far more interesting than when each get their own vignette; things can go so far afield in the latter scenario, it often feels like three different short films. Here, the filmmakers are forced to work together while still imparting their own individual styles. (If you appreciate this as well, I suggest you check out the American indy horror flick
The Signal
.)
So there you go: Great directors, great cast, great fun.