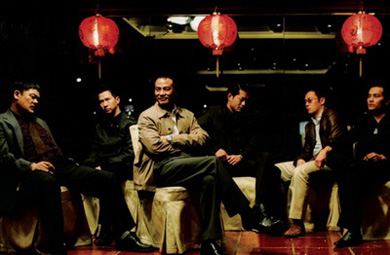 Lam Suet, Nick Cheung, Simon Yam, Louis Koo, Eddie Cheung, Gordon Lam
This DVD contains three films:
Election
,
Triad Election
, and
Triad Underworld
. Trilogies are popular, so I understand Palisades Tartan's marketing strategy here. Add the whole triad thing, and it's oh so very clever. However, while this disk offers much and is a great value for the price, it's not a proper trilogy. You get two great Johnnie To films and one not-so-great gangster flick whose title
sounds
like a Johnnie To film. So, in fact, with all the talk of triads and trilogies, three ain't the magic number here. We're talking twofer.
Let's dispatch the bad egg first. Director Wong Ching-po is no Johnnie To, and
Triad Underworld
(2004) is far from being in the same league as the other two films on offer here.
Underworld
wants for subtlety or style, the music is awful, the cinematography is grainy (looks like they shot it in 16 mm and blew it up) and the narrative tone moves queasily between sappy sentimentalism and ham-fisted violence. It's not that Wong doesn't try; there's a tense scene between two gangsters that employs the old
Vertigo
-style dolly zoom to enhance the tension (probably picked up from that scene in
Goodfellas
), and the twist ending is somewhat creative (but ultimately unnecessary -- it plays like a whimsical afterthought).
Underworld Triad
's greatest strength is its cast. The great Andy Lau (
Infernal Affairs
,
House of Flying Daggers
) plays triad kingpin Hung with his usual easy good looks and easy manner; Jacky Cheung is his loyal (?) lieutenant Lefty (lost a hand in service to his bro); Edison Chen and Shawn Yue play Turbo and Yik, two handsome young losers desperate to become gangland up-and-comers; HK film stalwarts Norman Chu and Eric Tsang appear in small roles as rival gang bosses; we even get XXL character actor Lam Suet in a tiny role as an abusive cop (his roles would grow throughout the 2000s).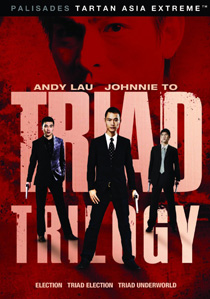 Election
(2005) is a completely different animal, an excellent film that won scads of awards (four Hong Kong Film Awards, 2 Golden Horse Awards, 2 Hong Kong Film Critics Society Awards, etc.) placing Johnnie To squarely in the big leagues. It stars Simon Yam (
Dr. Lamb
,
Triangle
,
PTU
,
Exiled
) and Tony Leung (not the Tony Leung from
Infernal Affairs
-- that's Tony Leung Chiu Wai -- this is Tony Leung Ka Fai) as two gangsters vying for the coveted position of chairman of the Wo Sing triad. Lok (Lam) is even-tempered, serene almost, but Big D (Leung) is a violent hothead. So when Lam is elected chairman, Leung doesn't take it well and threatens a gang war. A desperate scramble ensues to secure the 100-year-old baton that symbolizes the power of the chairman -- whoever gets a hold of it can claim the post. The hunt for the baton is something of a MacGuffin quest and goes on a bit -- the only weakness of the film. Otherwise
Election
is an intense, engrossing crime flick from beginning to end. The ending is a jaw-dropper, to be sure. Also starring super-cool Louis Koo (
Connected
,
Accident
,
Triangle
), Nick Cheung (
Exiled
,
The Beast Stalker
,
Connected
) and Lam Suet (
Exiled
,
Accident
,
PTU
-- yeah, I know, there's a lot of overlap).
Triad Election
(2006, aka
Election 2
) picks up the story two years later, just in time for another election. Our man Lok doesn't want to give up the position and is prepared to kill to keep it (more than prepared, in fact … ). However the favorite is his lieutenant Jimmy (Louis Koo), although Jimmy himself wants out -- he's keen to be a businessman in China. But get this: In order to secure the rights to do business in China, he has to be a triad chairman (go figure). Now he's forced to do all sorts of nasty shit to get to the top of the heap, the last thing he really wants. At one point, in order to intimidate a group of rival henchmen, he kills one, chops him up, grinds the meat and feeds it to vicious dogs in front of them. Talk about commitment!
Triad Election
raises the stakes in terms of action, violence and treachery. Johnnie To was clearly trying to top
Election
, and its successor is definitely the stronger and tighter of the two films. I saw
Triad Election
years ago but hadn't seen its predecessor, so many moments of dramatic irony were lost on me. Seeing it again, and hard upon
Election
, improved my film experience immeasurably. Viewing the two films back to back is the best, and a good reason to get this disk. Nevermind
Underworld Triad
, you can skip it -- or, if you've got 82 minutes to kill and nothing better to do, check it out. But it's the To films that are really the gems here, and not to be missed!