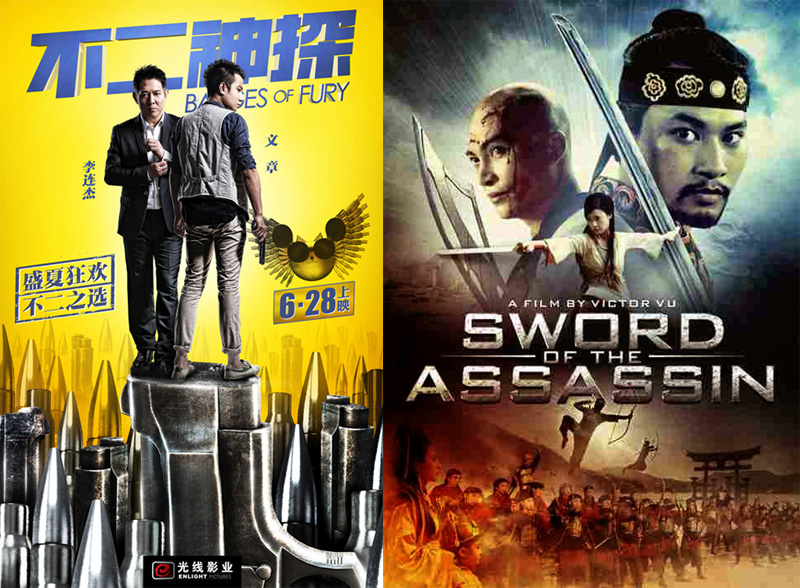 Been seeing a lot of cool stuff lately — Netflix keeps me busy with a plethora of new Asian releases. It's just these damn winter doldrums that keep me from blogging more …
Badges of Fury
(2013) is a total hoot, a frenetic buddy cop romp in the zany vein of 80s/90s Hong Kong cinema. Inside jokes, film references, and cameos abound, rewarding hardcore fans of the genre (for example, keep an eye out for Lam Suet as a cabbie).
The wire fu is off the hook, with fight sequences plunging down stairwells and busting through walls and windows. Jet Li, looking a bit rough these days, nevertheless delivers the goods (although it's his decades-younger co-star Wen Zhang who gets the lion's share of screen time). Buxom Ada Liu is worth a second look, and the whole "smile murders" thing is quite bizarre (a string of deaths wherein the victim dies with a goofy grin on his face). The breathless pace and old-school HK craziness will leave Asian film fans similarly grinning …
Sword of the Assassin
(2011) is a Vietnamese period actioner, and a good one. Among the most expensive films to emerge from this war-torn country, the money wasn't wasted; the film is visually stunning, with lavish, high-def vistas, meticulously crafted sets, beautiful costumes, and a top-notch cast. It's such a treat to be blind-sided by people and places you've never known, enveloping you in well-worn dramatic tropes; the familiar and the unfamiliar combine to transport you to a new place you've always known (jeez, I'm getting kind of maudlin here, sorry).
As usual, since these were Netflix assignments, if you get their streaming service, these films will be available shortly. Hey, that's pretty cool: If what I've written is of interest to you, just wait a couple of weeks and, with a push of a button, there it is. Enjoy!