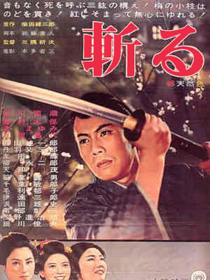 I reviewed
Destiny's Son
(
Kiru
, 1962) in my first book,
Stray Dogs & Lone Wolves: The Samurai Film Handbook
, and it occurred to me that I hadn't seen this wonderful film since then, so I thought I'd revisit it. I'm pleased to say it's lost none of it's magic, none of it's power. If anything, it just gets better each time I see it. A perfect synthesis of Zen and bushido, I can safely say it's among the finest samurai films ever made.
The film stars the immortal Raizo Ichikawa as the proverbial man born under a bad sign. For starters, his mother was beheaded by his father shortly after his birth. No, it's not like that -- she was under penalty of death for having assassinated her lord's mistress (on orders from the chamberlain) and no one in the han was willing to carry out the sentence. She was actually pleased when her husband stepped forth, happy to die at the hand of the father of her child. (Gotta love that samurai class … )
Our hero is adopted by a kind man and raised up to be a good country samurai, but treachery soon rears it's ugly head, sparking a series of cataclysmic incidents that send the young man spiraling into the uncertain life of a wandering ronin. Oh, did I mention he's a brilliant swordsman? Would have to be, right? He's got this great form that so unnerves his opponents, they drop to the floor in exhaustion just trying to find some way to fight him.
This being a Kenji Misumi film, the visuals are gorgeous, the pacing tight, and the fight scenes thrilling. It's also one of three Misumi films I'm aware of where someone gets sliced in half …
lengthwise
. Yep, from topknot to tail, the guy just sort of
flops open
. Mind you, it's all very tastefully done, from a distance, so don't expect some horrendous blood bath. Blood is used sparingly in the picture, but effectively.
As for cast, all your Daiei favorites are here: Shiho Fujimura (mom); Shigeru Amachi (dad); Masayo Banri (a fugitive who strips off her clothes to create a diversion, bless her); Saburo Date (a duplicitous retainer) and of course Raizo. Also on hand is
Seven Samurai
alum Yoshio Inaba (the smiling one), here playing a murderous creep who cuts down Raizo's adopted father and sister.
If you don't feel like waiting for the next Raizo Ichikawa retrospective at your local arthouse to get a look at
Destiny's Son
, you can pick up a copy
here
. I can guarantee you won't regret it. And, if you haven't already, why not get a copy of
Stray Dogs & Lone Wolves
? My original review is better written and more thought out than this on-the-fly blog post. Up to you.