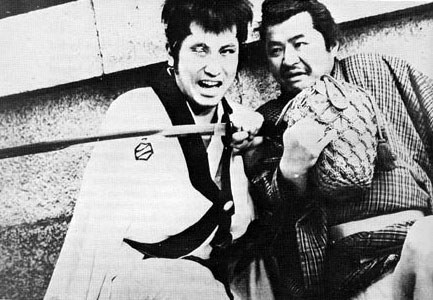 Another film I reviewed in my 2005 tome
Stray Dogs & Lone Wolves: The Samurai Film Handbook
was
The Secret of the Urn
(1966). I'm revisiting the film (as well as
Destiny's Son
) for the sake of
Wildgrounds Blogathon 2010
, as I feel the film is such a supreme achievement in the genre that it deserves a second look (or first look if you haven't seen it).
The legendary Kinnosuke Nakamura plays a one-eyed, one-armed wild man of a ronin named Tange Sazen. His injuries were received at the hands of a treacherous chamberlain who used the young samurai's loyalty to lord and
han
for his own nefarious purposes. Now this
bakemono
(monster, as most who encounter Tange Sazen call him), lives out his days in bitterness and mental instability. But boy can he swing a sword! Into his lap falls a tea urn inscribed with some secret writing leading to a fortune in
ryo
(gold coins), a million of them to be precise. The urn and gold belong to the Yagyu clan, and they need the one to find the other (the very fate of the clan depends on it). There are other factions and more layers of intrigue which I won't go into here.
The film was directed by Hideo Gosha, one of the Great Ones of samurai cinema. Therefore you have a more realistic level of screen violence (think blood and body parts), innovative use of moving camera, and the general sense of kinetic urgency emblematic of Gosha's style.
The Secret of the Urn
is an excellent film that also boasts an excellent cast. As with my last two posts, at least one member of the Seven Samurai is present, in this case Isao Kimura (who played the young guy samurai who falls in love with the farm girl). Then there's Seizaburo Kawazu, here playing a machiavellian shogunate official; he was in everything from
Yojimbo
to
Tattooed Life
to
New Tale of Zatoichi
to
Mothra
. Of particular interest to samurai film nerds is the presence, in a small role, of one Ryutaro Otomo. A Toei studios stalwart of the 50s and 60s, Otomo himself starred as Tange Sazen in at least half a dozen films, his first in 1952. (His version of the character was far more comical and OTT than Nakamura's here.) One wonders how he felt playing a high-ranking magistrate trying to convince Tange Sazen to leave town ...
So there it is. You can get a copy of
Secret of the Urn
here
(you won't find it on Amazon). It's a great film, a fantastic entry in the genre, and just a roaring good time. Oh, and if you're interested in learning more about the character of Tange Sazen, I discuss him at length in my follow up to
SD&LW
,
Warring Clans, Flashing Blades: A Samurai Film Companion
.