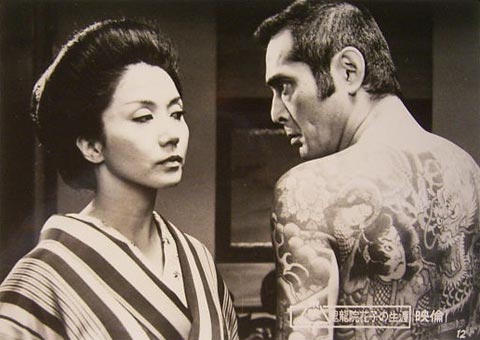 In terms of volume, Hideo Gosha was far from an impressive filmmaker. With a mere 24 films to his name over the course of three decades, he would seem something of an underachiever compared with his contemporaries. But then you see his films, and realize that quality so outstrips quantity as to lift him to the upper echelons of the Japanese filmmaker elite. His 1960s samurai films alone stand among the finest in the genre. In the 70s he turned to yakuza films; in the 80s he specialized in what could best be described as "women's pictures," centering as they did on geisha, yakuza wives, serving girls and lady assassins.
Onimasa
(1982) is the first of Gosha's 80s films, and for those familiar only with his earlier genre outings, it might come as something of a shock. There is no tension like we feel in
Three Outlaw Samurai
and
Sword of the Beast
; gone is the bold, sprawling action of
The Secret of the Urn
,
Goyokin
and
Tenchu
; nowhere do we find the labyrinthine intrigue of
Bandits vs. Samurai Squadron
and
Hunter in the Dark
. With
Onimasa
we move from exterior to interior, to an intimate portrait of behind-closed-doors life in a small-time yakuza gang.
The primary figures, under whose skin we will get in all the depth that 2 1/2 hours affords, are boss Onimasa (Tatsuya Nakadai), his wife Uta (Shima Iwashita), and Onimasa's adopted daughter Matsue (Masako Natsume). There's also Onimasa's natural-born daughter Hanako (Kaori Tagasugi), who figures in the story more as a spoiled princess MacGuffin than a viable character. The story moves from 1918 through the 20s and 30s, during which time we observe internecine conflicts, gang rivalries, an outbreak of typhoid fever, a railway strike and a somewhat disturbing dogfight (is it fake or not?). The leisurely pace and exaggerated performances, particularly from Nakadai, take some getting used to and may not be to everyone's liking. However, the film has a lot to offer and, according to
AnimEigo
(who recently released
Onimasa
on DVD), it's "considered in Japan to be Hideo Gosha's best-known film."
The supporting cast features Isao Natsuyagi (
Samurai Wolf
,
G.I. Samurai
) and Koji Yakusho (
Dora-Heita
,
Kamikaze Taxi
), two excellent actors whom I discuss at length in
Warring Clans, Flashing Blades
. There's also the inevitable Tetsuro Tamba (he was in everything). And, of course, you can't go wrong with luminaries like Shima Iwashita and Tatsuya Nakadai. While Nakadai's performance here is unusual, it tends to grow on you, so by the time of the grande finale (a Gosha specialty), you're behind him 100%.
Onimasa
won the prestigious Blue Ribbon award for Best Actress and the Japan Academy Prize for Best Art Direction.