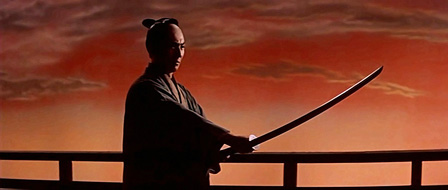 If you're in the New York City area and dissatisfied with the current crop of sequels, remakes and sequels of remakes at your local cineplex, might I suggest something wholly other and altogether
subarashi
(fantastic)? Starting December 11th, The Japan Society will be presenting a new series,
The Double-Edged Sword: The Chambara Films of Shintaro Katsu and Raizo Ichikawa
. Opening night, it's
Samurai Vendetta
starring both Katsu and Raizo (a fine film, reviewed for your convenience in my latest book,
Warring Clans, Flashing Blades)
. The film will be
introduced by series curator Chris D.,
author of
Outlaw Masters of Japanese Film
,
with a reception and book signing to follow.